Put Down The Phone, And Stay InTouch
Infiniti InTouch™ integrates navigation, convenience, security and entertainment into a dash-mounted state-of-the-art system. It helps protect you, makes every drive effortless, takes you where you need to go, and keeps you in touch the whole way there.
Always in Control
Infiniti InTouch touch screen dashboard navigation screen | Infiniti Canada U.S. Instrumentation shown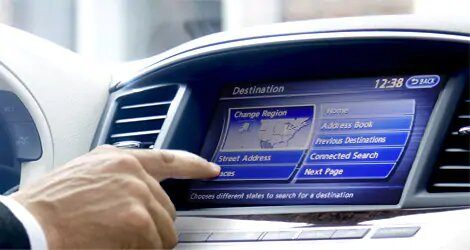 By Touch
Access your in-vehicle apps, music, phone contacts, maps and more from a convenient colour touchscreen, available with gesture controls like swipe, tap and pinch.
By Voice
Press the talk button on your steering wheel to activate voice recognition and control your entire Infiniti InTouch™ system using simple voice commands.
Get More Done. Be More Aware. Amplify Your Ride.
Navigation
When equipped with navigation, Infiniti InTouch™ can help you find addresses and places of interest, guide you to your destination, and enhance your entire journey with convenient features that help you move through traffic with ease.
Entertainment & Communications
With just a few quick voice commands or swipe of your touchscreen, you can make a hands-free call to your office, get access to hundreds of music and news channels and more.
Convenience & Concierge
Infiniti Connection™/InTouch Services make the most of your drive time. Sync your Google Calendar™ to your Infiniti InTouch™ system for easy access to your schedule, and talk to a live agent to locate a destination anytime.
Safety & Security
Whether you need a reminder, a little assistance, or help in an emergency, Infiniti Connection™/InTouch Services Personal Security features are there to help take care of you and your passengers.